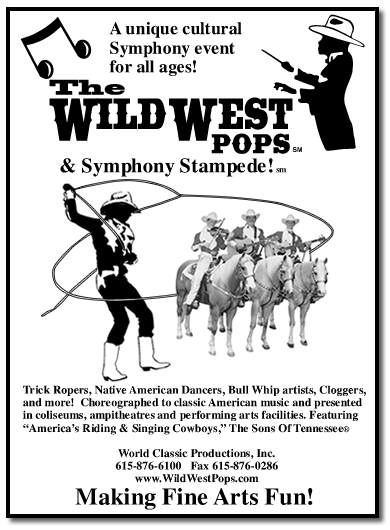 Performance Locations:
The Wild West Pops & Symphony Stampede can be presented in coliseums, amphitheaters, fair grandstands or in large performing arts facilities. Note: Animal acts with the show do not require any special flooring.
The Symphony:
Opens the show with well known western classics like The Theme From The Magnificent Seven, Big Country, Hayman's Pops Hoedown and Copeland's Rodeo.
Feature Attractions:
Western arts performers, trick ropers, cloggers and Native American dancers present choreographed routines with special orchestra music. "America's Riding and Singing Cowboys," The Sons Of Tennessee present their smooth western harmonies in concert with the orchestra either ON STAGE (or in front of the stage) with their three Palomino horses.
Show Length:
One hour and 45 minutes with intermission.
Marketing:
The show is marketed as a "family entertainment" event and not just a concert. Special promotions have been created to involve both children and adults in conjunction with manufacturers, grocers, fast food restaurants and retail outlets.
Ticket Prices:
Ticket prices are kept within the range of other "family shows" and adjusted according to the market. Special seating is also available for regular symphony supporters and for those desiring VIP seats.
Educational School Shows:
Educational learning tools and discounted tickets for schools can be arranged depending on market size and sponsor support.
Sponsorships:
Sponsorship opportunities are available for both National and Local sponsors on an exclusive and non-exclusive basis. Opportunities include media exposure, signage, discounts, couponing, program advertising and more.
Family Entertainment Policy:
No alcoholic beverage or tobacco sponsorships are accepted.