While I live will I praise the Lord; I will sing praises unto my God while I have any being. Psalms 146:2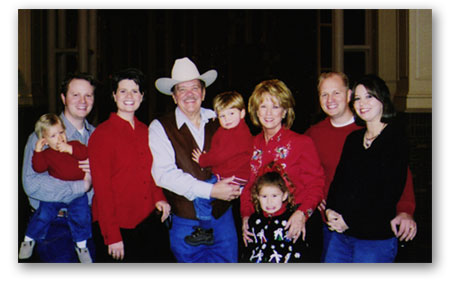 Left to right: Zach holding his son Jake, and standing next to his wife, LeMoyne. George holding Joshua (Jorgen's son), Cheryl standing behind Mikayla (Jorgen's daughter), Jorgen, and Karah, Jorgen's wife.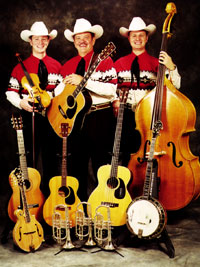 For as long as our family has been on the road performing with horses as The Sons Of Tennessee, we have also performed in churches, with or without the horses. Yes, the horses have been inside churches at the request of some very creative, visionary pastors. We are always happy to accommodate by taking the palominos inside, if at all possible, as they are well mannered and sociable.
As you have discovered from our on-line brochure, our eldest son, Jorgen, is no longer performing with us. He has been called into the ministry and is a full time Youth Pastor in the Nashville area. To see what he is doing, visit
swatteens.com
. You can email Jorgen at
director@swatteens.com
As a family and as a musical trio, we have always desired to glorify Christ and present an example of family harmony in the process. Jorgen and Zach began their musical career in church as youngsters, part of a trumpet trio with their dad. Keith, who has now taken Jorgen's place in the trio, also grew up in church and on the road with his dad, Keith Cook, Sr., who is an evangelist.
We will tailor our program to the needs of your church, whether it be a concert presentation or a "Round Up Sunday," designed to enable your church to focus on a community promotion to bring in visitors.
What the Pastors say...
"Our annual western day, which we call Round-Up Day, has become one of the biggest days of the year for our church. No group has helped us to make this a great day more than The Sons of Tennessee. Their godly testimony and outstanding gospel and western music make them favorites with our people. We've already had them for two Round-Up Days and hope to have them again in the future."
Dr. Carl Godwin, Pastor
Bible Baptist Church
Lincoln, NE
---
It was a real treat to have your family at the Canton Baptist Temple. Your ministry in our Sunday services and the Family Camp Week was just what we needed!
Our folks have asked for more of your recordings in our bookstore. The blend of the Western music with the Christ honoring selections was refreshing. We especially appreciate the family emphasis and your strong local church ministry. Bless you all!
Rev. Rick Ragan
Minister of Music
Canton Baptist Temple, Canton, Ohio
---
"The Sons Of Tennessee will bless your heart with their Western style of gospel singing."
Dr. Jerry McDonald
Calvary Boys Ranch
Eufaula, Oklahoma
If You Died Today, Would You Go To Heaven?, Click Here To Find out.