Thanks to NAVISTAR International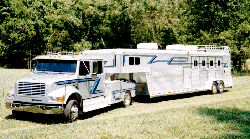 Throughout the years, The Sons Of Tennessee have tried a number of vehicles to pull their 37' horse trailer. Now, through a special arrangement with Navistar International they have two "state of the art" show trucks.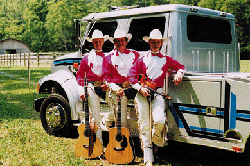 The vehicles they now use are an International DT4700 Low Profile two ton crew cab truck with air ride suspension, a customized plush interior, including air ride bucket seats in the front, a back seat that folds down into a bed, stereo radio & cassette, CB, two 70 gallon fuel tanks, and special compartments behind the cab to haul tools, luggage and instruments.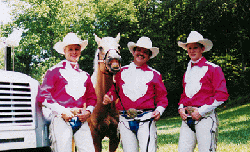 Some folks think these trucks look like oversized Tonka Toys...and "they handle like a dream," according to George, Jorgen and Zach who are the primary drivers as they travel across the country.

Even "Windsor The Wonder Horse" is all smiles over the softer air ride suspension.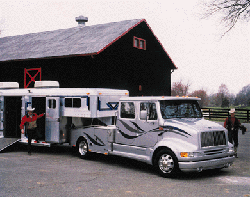 International trucks are available throughout the United States, but the special bed and customized package was completed by Weirs International in Plymouth, Indiana.

You may see George and Jorgen in some of the International promotional materials such as the photo with George stepping out of the trailer and Jorgen coming around the front of the truck.

If you are interested in a truck like one of these, Weirs International can be contacted at 1-800-348-2839.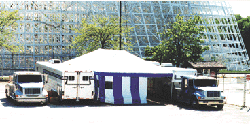 HOME SWEET HOME for the horses is this specially designed tent which is 'anchored' on location to the group's two 37 foot aluminum trailers. The two ton prototype trucks were expressly designed for The Sons Of Tennessee and furnished by: Navistar International Truck Company.