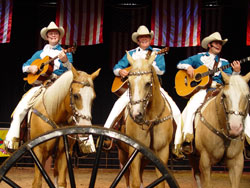 There was a time when the good guys always wore white hats and "Country" music had a clean, simple and soothing dimension to it, known as "Western" music. The Western side embodied the songs of the cowboy and his lifestyle. Songs of living in God's creation during good times and hard times. Songs about choosing the right trail despite the hardship that was undoubtedly just around the next bend. Songs that left us feeling a little bit better just for listening.
The era of the 'singing cowboy' is still alive in The Sons Of Tennessee. What began as a f ather and sons musical trio on horseback in 1989 has now progressed to the next level. Still riding, singing and playing their instruments, yes, but a fresh, new talent has joined the team.
George, the father of the group, always dreamed of 'riding and singing on a palomino pony' just like he had seen The King of the Cowboys, Roy Rogers do when he galloped across the silver screen in the 1950s. In George's teenage years he pursued music as a profession, performing at horse shows and rodeos and becoming known as "The One Man Band," due to the variety of instruments he played.
Settling in Nashville, TN, and raising two boys, he and his wife Cheryl were delighted to find that the boys, Jorgen and Zach, were also interested in horses and music and soon the young men were performing with their dad. It wasn't long before they were traveling throughout the country and Canada, known as The Sons Of Tennessee.
Jorgen, the eldest son, was called to follow another trail in 2004, and he is now a full time Youth Pastor. Keith Cook, a very competent and talented young man, is now the newest member of the trio.
George, Zach, and Keith each sing and play several instruments, and on horseback or stage they present a full range of musical entertainment including Western and Gospel offerings.
AKG Wireless
mikes on both their voices and instruments allow them to be accessible to their audience, and special non-skid shoes on their well-trained palomino horses, Windsor, Aztec, and Champ, give them the unique ability to be able to perform on horseback in some unlikely places . . . such as a convention center, theatre, or even a corporate dinner meeting.
---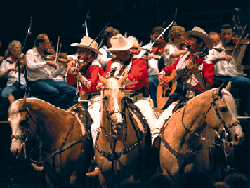 Symphony Concerts
"It was a pleasure to have The Sons Of Tennessee perform with the Milwaukee Symphony Orchestra. The audience obviously loved what you and your sons do. Your singing and playing are terrific, and the (orchestral) arrangements you provided worked beautifully.
Of course, over and above all of the superb musical features is the fact that you are the first horse-riding soloists ever to work with the MSO. We loved it, and I know that other orchestras will find it equally as appealing. Please feel free to have anyone call me as a reference for your wonderful group."
Steven A. Ovitsky, Executive Director Milwaukee Symphony orchestra
For more about our special symphony program
The Wild West Pops
.
---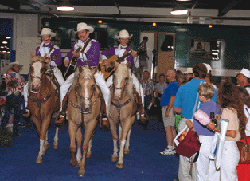 It is very rare when planning a convention the size of Family Motor Coach Association that I hear a resounding positive response to anything...until Oklahoma City's Winter International Convention. The overwhelmingly positive comments were directly related to The Sons Of Tennessee.
I was thrilled to see standing room only crowds in our daytime entertainment tent. I grinned when I saw many in the crowd act like little children waiting for Santa, pointing when the Sons Of Tennessee emerged from the stalls. The clicks of cameras, smiles on the faces and thunderous applause as you performed some of country's best songs, convinced me that I made a very wise choice in selecting the Sons Of Tennessee for our convention. I do look forward to having you back for a repeat performance.
Jerry L. Yeatts, Director of Conventions & Commercial Services
Family Motor Coach Association

After several years, it was great to have you back in Richmond, to perform at the State Fair of Virginia. We appreciated and enjoyed your performance the first time and even more on your return, recognizing the great appeal that the Sons Of Tennessee have had to our Fair and horse show guests in the past. Your talent, presentation and professionalism are without peer, and your performances are inspiring as well as entertaining.
What was impressive was the number of comments we received from those attending the Fair. We wish you the best for the coming year and look forward to your return in the future.
Sue Mullins, Director Of Entertainment & Equine Programs
State Fair Of Virginia
Thank you for coming to Lawrenceburg to perform at our annual Chamber Banquet. The calls and comments have been incredible concerning your wonderful harmony and the beauty of the horses. You truly gave an outstanding performance.
Daphene Cope, Director of Operations
Lawrenceburg Chamber of Commerce
Thank you for bringing the Sons Of Tennessee to the Tennessee Farm Bureau President's Conference. Your combination of musical talent, uniqueness and wholesome family entertainment sets you above the other Nashville entertainment. The blend of country, western, patriotic & Gospel was very well received by our county Farm Bureau leaders
Bobby Beets, Director of Organization
Tennessee Farm Bureau Federation
Having been on the entertainment committee for the Harford Fair for many years, I have had the opportunity to meet a lot of nice people and enjoyed a lot of great shows, but I want you to know that we think you and your family are the greatest and your show tops them all.
We are still getting letters and phone calls from people who saw "The Sons Of Tennessee" perform at our fair, all expressing their gratitude to the fair for having you.Thank you all for a great job!
James "Ken" Adams, President
Pennsylvania State Association of County Fairs
---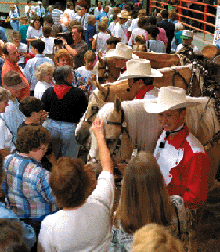 And the people LOVE the horses !
SOME OF THEIR APPEARANCES
Montana State Fair, Great Falls, MT
Rosemont Horizon, Chicago, IL
Toledo Sports Arena, Toledo, OH
Orlando Centraplex Arena, Orlando, FL
George Mason University, Fairfax, VA
Vets Auditorium, Des Moines, IA
Huntington Civic Center, Huntington, WV
Montana Fair, Billings, MT
Freedom Hall, Johnson City, TN
Greensboro Coliseum, Greensboro, NC
UIC Pavilion, Chicago, IL
Tallahassee Civic Center, Tallahassee, FL
Hulman Center, Terre Haute, IN
Mobile Civic Center, Mobile, AL
Breslin Center, MSU, Lansing, MI
Silver Dollar City, Branson, MO
FargoDome, Fargo, ND
Corel Centre, Ottawa, Canada
North Mississippi Fair, Tupelo, MS
Kaleidoscope Kids Festival, Chattanooga, TN
Equitana USA, Louisville, KY
National Western Stock Show & Rodeo, Denver, CO
Six Flags Great America, Gurnee, IL
Virginia State Fair, VA
Family Motorcoach Association
---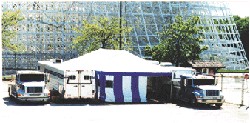 HOME SWEET HOME
for the horses is this specially designed tent which is 'anchored' on location to the group's two 37 foot aluminum trailers. The two ton prototype trucks were expressly designed for The Sons Of Tennessee and furnished by: Navistar International Truck Company.