Guest hosts of The International Championship Rodeo
which is produced only in indoor coliseum facilities.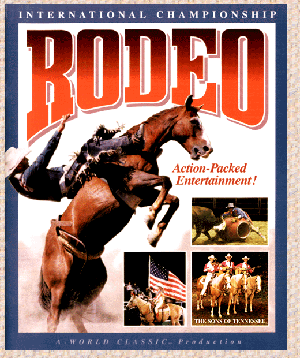 This rodeo is presented as "family entertainment" and maintains high standards of family values.
Each performance includes professional competition in bareback bronc riding, saddle bronc riding, calf roping, ladies barrel racing, steer wrestling and bull riding. However, there is much more to this rodeo than the traditional "rough and tumble" contest events.
Starting with a spotlighted Broadway Musical type of riding, singing, patriotic opening the International Championship Rodeo is two and one-half hours of fast-paced entertainment for all ages. Special performers such as, trick riders, trick & fancy ropers, dancing horses, clowns and "America's Riding & Singing Cowboys" The Sons Of Tennessee add just the right touch to make it an event that is fun for everyone!
If you attend...expect the unexpected...as you may see something you've nerver seen before, such as South African Ostrich races, a camel race or even a wild bull chariot race!
In keeping with their commitment to "wholesome family values" The International Championship Rodeo does not accept sponsorships from alcoholic beverage or tobacco product companies, a fact that has been applauded by family organizations, the media and other sponsors.
Advertising, marketing, and the show production is directed by George Runquist and his staff of rodeo professionals that he humbly calls "our rodeo family".
Innovative marketing coupled with an "award winning" production makes the International Championship Rodeo a unique entity in the world of entertainment and also provides a unique opportunity for promotional involvement and sponsorship.