Just click on your choice to browse through song titles, and ordering information.
West Of The Moon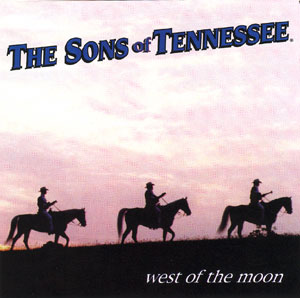 Western variety album captures "The Sons" unlimited talents, both vocally and instrumentally. You'll hear George imitate the great Louie Armstrong on Ragtime Cowboy Joe, Zach showcase on several instruments during his creation, Cactus Boogie, and Jorgen's hauntingly beautiful Desert Wind, which is destined to become a Western classic.
Song List:
Desert Wind
Cool Water
Ragtime Cowboy Joe
West Of The Moon
Cactus Boogie
The Pony Express
The Cattle Call
Let That Whistle Blow
Come Ride With Me
Reach Out To Jesus.
Song Samples:
RealMedia:
West Of The Moon
RealMedia:
Desert Wind
Song samples are encoded in a
RealMedia
format. To get your free RealMedia player,
click here
.
How Many Compact Discs ($15.00 + S&H)?
How Many Cassettes ($10.00 + S&H)?