Just click on your choice to browse through song titles, and ordering information.
Heaven's Gate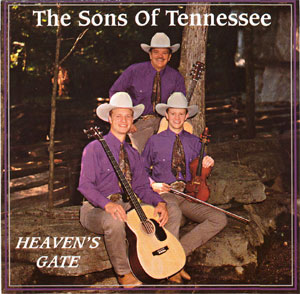 A beautiful inspirational album, Heaven's Gate encompasses Western, traditional, Southern Gospel, contemporary, and sacred . . . all with the unique styling of The Sons Of Tennessee. This is an album that you will listen to many times over.
Song List:
Heaven's Gate
The Storm's In His Hand
Fall Into The Arms Of Jesus
A Cowboy's Dream Of Heaven
Mary, Did You Know?
The Master's Call
The Old Rugged Cross
Feet Slippin' Away
I'll See You Again
The Lord's Prayer
Song Samples:
RealMedia:
Heaven's Gate
RealMedia:
Mary, Did You Know?
Song samples are encoded in a
RealMedia
format. To get your free RealMedia player,
click here
.
How Many Compact Discs ($15.00 + S&H)?
How Many Cassettes ($10.00 + S&H)?