Words & Music by Cheryl Runquist
Choir Arrangement by Dennis Allen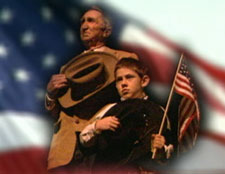 If you would like to see a demonstration of the DVD, please click on the image above. You will need to have a Cable or DSL internet connection as well as the latest version of
Quicktime
installed in order to view the demo.
This stirring song has been performed by the Sons Of Tennessee (and others) in churches, at patriotic rallies, fairs, festivals, opening productions at rodeos, with symphony orchestras and as a music video on satellite and cable television networks.
Ideal for Memorial Day, Flag Day, Veterans Day, Patriotic Rallies, or any other event where you want to stir the hearts of listeners with a "God and Country" presentation, including the honoring of our veterans or remembering our military service men and women.
Click here to listen to a FREE demo of song as performed by the Sons of Tennessee.


SATB ARRANGEMENT by Dennis Allen
$39.95
ACCOMPANIMENT AUDIO TRACK
$24.95
DVD WITH ACCOMPANIMENT AUDIO TRACK
$49.95
FULL SYMPHONY SCORES/ORCHESTRATIONS :: CALL OR EMAIL FOR PRICE
Full symphony scores/orchestrations are available and priced according to your needs. Please call George at (615) 876-6100 or email george@sonsoftennessee.com for prices.


SPECIAL PROMOTION
Once your congregation hears the song, it has been our experience that they will want a recording of it. We have special packages available, which include The Sons Of Tennessee singing the song on their album "One Nation Under God." By making these available to your congregation you can help pay for the cost of the arrangements and other materials. Call George at (615) 876-6100 or email george@sonsoftennessee.com for details.